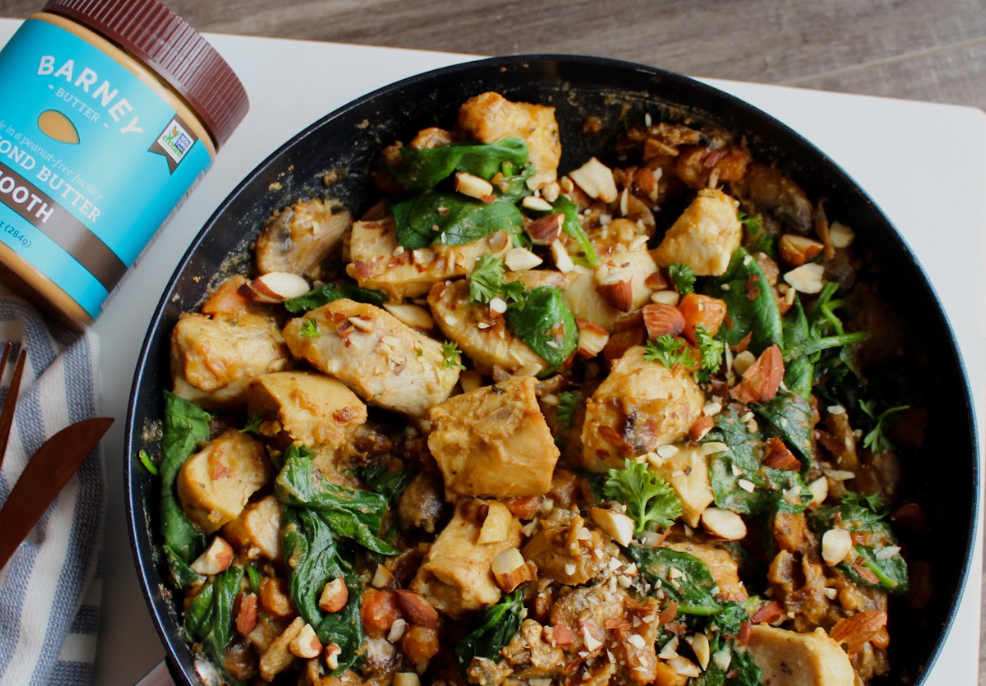 Ingredients
1/4 cup olive oil
1 small onion, halved, thinly sliced
1 carrot, finely diced
2 cloves garlic, thinly sliced
8 oz. package sliced mushrooms
1 1/4 pound boneless skinless chicken breasts, cut into bite-sized pieces
1/2 cup dry sherry
1/2 cup water
1/2 teaspoon dried thyme
1/2+ cup Barney Butter Smooth Almond Butter
9 oz. package baby spinach leaves or about 4 cups
Toasted sliced almonds
Finely chopped fresh parsley
Salt and freshly ground black pepper to taste
Pinch of saffron (rubbed finely before adding)
Juice and zest of a small lemon
Pinch of ground cloves
Pinch of ground ginger
Directions
Heat olive oil in a Dutch oven or large saucepan over medium-high heat. Add onion, carrot, garlic and mushrooms and cook, stirring often, for 3 minutes. Season with salt and pepper and continue to cook, stirring for 2 more minutes.
Add chicken and cook, stirring, until chicken is just cooked through. Meanwhile, dissolve saffron in sherry. Add sherry, lemon juice and zest, and water to chicken, stirring to combine. Bring to a simmer.
Stir in cloves, ginger, thyme and Barney Butter. Bring to a simmer and let cook for 5 minutes. Add spinach and cook, stirring, until spinach is wilted. Reduce heat to medium-low and let simmer for 10 minutes to combine flavors. Serve hot, garnished with toasted sliced almonds and parsley.